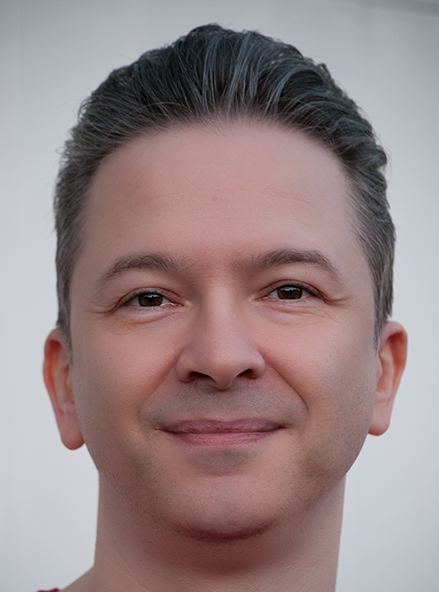 Dino Fancellu
Senior Scala Developer
© 2022 All rights reserved.
Dino Fancellu
XML/XSLT/XQuery Developer
35 years in commercial IT, 25 years Java, 13 years Scala. Lots of experience in Scala, XML/XSLT/XQuery and a love of functional programming and tight code
Nationality

British

Residence

UK

Address

Epsom

e-mail

dino@felstar.com
Dino was my first hire on the new OMS team I had to build. He quickly learnt the architecture and data flows and even spotted issues with the specification for new work (the trader was wrong!). He helped on-board the new team members, contributed Scala code through the entire stack and could pair or work independently to deliver solutions. A great team member who I would enjoy working with again.
Dino is an avid developer, with a great understanding of Scala. He's constantly looking to develop his skillset and challenge himself, despite his extensive experience. He's a great contractor who delivers results and has an eye for detail. I'm looking forward to working with him again one day.
I've worked with Dino before and he helped me get hired here. Dino was very helpful onboarding me as he'd worked extensively on the codebase. Dino is a top quality Scala Developer with a massive amount of real world I.T. experience and a strong knowledge of many technologies. He would be an asset to any team.
I've had the pleasure of working with Dino for a few months and watching him grapple with the complexities of the software that my team curates has been something of a treat. I found that he was both effective and conscientious. His contribution boosted our team's effectiveness immeasurably.
I was particularly impressed by Dino's ability to handle and manage a high amount of work on such tight deadlines and has always delivered, but also the ability to juggle his workload and to support other members of his team, this showed that he made a dramatic difference in the teams productivity level. This seemed to come very naturally to him.  Without Dino and his Scala skills, there would have been so much we wouldn't be able to deliver on time and up to such an amazing standard.  We kept Dino's contract for almost 2 years till the end of the programme for his knowledge and wealth of experience. We tried to tempt him to join other projects, but Scala has spoiled him compared to other languages. I would certainly employ Dino again.
I worked with Dino on 2 separate Scala & Play Framework projects within Atos. Dino's Scala knowledge really helped the team as a whole, providing specialist knowledge to us as well as suggesting and implementing code improvements to make our code more readable and efficient. Dino's skills and ability to assist others with his knowledge of Scala and the Play Framework would be of great benefit for future employment and his colleagues.
Dino worked on Scala project for us for 3 months. The client was based in a remote area of Scotland and so Dino had to travel up there initially and then undertake the work remotely from home. Dino was reliable and trustworthy producing high quality work 99% of which he was not onsite for and was working under his own volition.. Despite this the client also noted as well as the high quality of work produced Dino also integrated well into the team. Pleasure to work with, and I hope to work with Dino again very soon.
Dino was one of several contractors to join a mixed skills development team on an initial contract of 3 months to support the closing stages of a project. I'm one of the team leads on the project, that means I do more management than programming. Having followed the joining instructions and set up all the necessary software tools and dependencies with minimal fuss, Dino was ready to take on tasks within a couple of days of joining the team. This was a marked contrast to several others that joined the project. The project consisted of a number of related web portals (over 200 unique pages) and the service layer to provide the data storage and complex business logic to support them. The portals were built using Scala on Play framework, the service layer (which Dino didn't work on) was built in Java using a Redhat stack. Dino initially took on the challenge of restructuring the web portals to reduce the complexity of the builds and to factor out some of the common/repeated code into more reusable modules. This was carried out as a series of Stories over a couple of 2 week Sprints and significantly improved the state of the code base. Some of his other tasks included: • changing the API's between the portals and the service layer to resolve issues with stored data and user friendly presentation of previous user selections • updating HTML/CSS for a better user experience on mobile devices • numerous minor bug fixes and miscellaneous tasks The final piece of work Dino carried out was to upgrade all the portals from Play 2.4 to Play 2.5. This was a significant task due to fundamental changes and deprecation's in the Play framework. Again this was delivered with no fuss, just a few jokes along the way. As it turned out the expected loss of 4 staff did not happen and so Dino was no longer required. So, is Dino the perfect contractor, no – but then who is? He is intelligent and has very good developer habits (config control, code style, tests etc). Dino is able to research techniques and tools that he has not used before and then apply them effectively with the added bonus of his years of experience. On the other hand, working remotely on large tasks, he can go quiet for long periods - it would be nice to get progress updates a little more frequently. Working with Dino has been easy. He has taught us a few tricks and I think all parties have benefited from the experience. Ultimately, if I was in need of extra staff on another project I wouldn't hesitate to request Dino.
Working at Caxis, Dino produced Scala code of a consistently high quality - a true talent. Generous with his knowledge, honest with his feedback. This wasn't the first time I've worked with Dino, and I would gladly work with him again.
Dino is an exceptional developer with a forward looking and analytic mind. He went though all the requirements and identified the items that were incomplete or conflicting. His experience in Scala and XML is exceptionally valuable. The insights and value that Dino brought to the team were invaluable. It was a pleasure to work with Dino.
Dino is hands down the strongest developer that I have met. Why is that? He does not rest on his laurels. Dino seeks and finds the truth. Define a problem space, then solve that problem effectively. Thus his work reaches the sweet spot of being precisely what it needs to be. Hire a professional, cry once. Dino offers his wisdom to those willing to grow. His advice is insurmountable to my growth as a programmer and individual. His depth of expertise will benefit any project. I look forward to working with him in future.
Contact
Epsom, UK
dino@felstar.com
Outside IR35, 100% Remote